About Talking Statues Bedford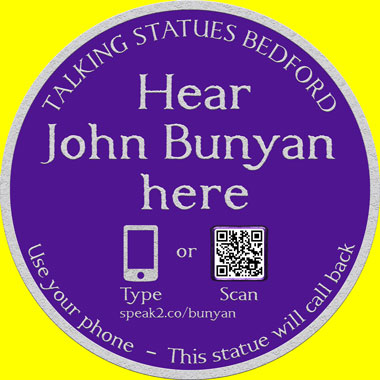 New for spring 2017: Bedford's statues are talking, too!
Pass a Talking Statue, swipe your smartphone on a nearby plaque and presto, get a call back from John Bunyan (voiced by Matt Berry), prison reformer John Howard (voiced by Colin Salmon), big band leader Glenn Miller (written by Toby Litt) or a 5-metre tall silver face (voiced by Al Murray)! Each has a story to tell. Together, they tell Bedford's story.
Sing London are working with the Love Bedford Business Improvement District (BID), Bedford's theatres and museums to animate 7 statues across the town. The project has been funded by The Harpur Trust and town centre businesses, whilst working in partnership with Bedford Borough Council, The Higgins Art Gallery and Museum, The Place Theatre, LifeBox Theatre Company and Bedford Central Library.
Using drama, humour and location technology, Talking Statues breathes new life into the statues that surround us. Some approaches are dramatic, others comic and others flights of pure fantasy. All aim to persuade the public look at the statues with new eyes.
To hear the statues speak, just bring your phone and pay them a visit!
FIND OUT WHO'S TALKING WHERE